AAA's reliable Franna crane hire services are offered across The Melbourne Metropolitan Area. Our experienced team ensures an efficient and comprehensive service that is personalised to your on-site requirements.
Our 22-tonne Franna crane (commonly referred to as a pick and carry crane) is suitable for a wide variety of jobs, including lifts on domestic job sites, tight access areas and where a crane truck might otherwise not be able to reach in order to meet your on-site needs.
AAA's Franna crane service is a fast and agile solution for all job site conditions and requirements. Get a quote or call us on +61 3 8782 7200 for further details
.
CAPABLE OF ALL ON SITE LIFTS INCLUDING:
Wall Frames, Posi Struts, Joists, Trusses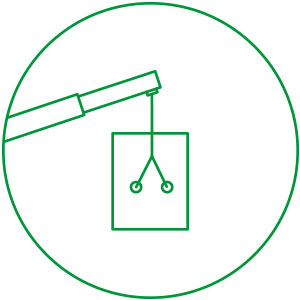 Windows to second stories
Stillages holding building products
You may need a Franna Crane on site to:
Unload in a safe area away from obstructions/hazards (i.e. powerlines) and then drive with the load at ground level to avoid no go zones for powerlines (with ticketed spotter).
Access areas that a crane truck cannot (i.e. battle axe block/long driveway/low trees).
Heavy lifts (max 22 tonnes up close).
Lighter lifts (less than 1.5 tonne) 17m reach at 40 degrees articulation subject to site conditions
Steep and sloping blocks.
Increased efficiency (correct crane supplied 1st time).
More accurately predicting timelines and cost.