Franna Crane Hire in Melbourne & Regional Victoria
AAA provides a reliable and effective franna crane hire service throughout Melbourne and regional Victoria. The experienced team at AAA ensures an efficient, comprehensive crane hire service that is personalised to your on-site requirements.
Our 22-tonne franna crane (commonly referred to as a pick and carry crane) is suitable for lighter lifts on domestic job sites, heavy commercial lifts, as well as tight-access area lifts where accessibility for other cranes may be an issue.
AAA's franna crane hire is a fast and agile solution for all project conditions and specifications. Get a quote or call us on +61 3 8782 7200 for further details.
Franna Crane On-Site Lifting Capabilities:
Our Franna crane hire service includes onsite lifting and positioning of integral structural components such as wall frames, posi struts, joists, and trusses.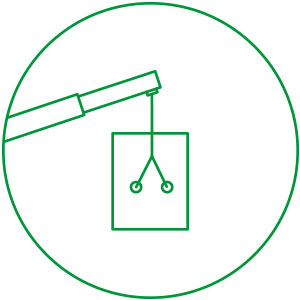 Window installation to second stories or higher can be challenging. AAA's experienced franna crane team skillfully lifts and positions windows for quick, safe installation.
The strength of a franna crane is ideal for lifting heavy steel and timber beams, enabling smooth, efficient frame assembly to accelerate construction and boost project productivity.
Our Franna crane hire excels at maneuvering stillages with building products, mitigating manual handling, bolstering on-site safety, and enhancing overall efficiency.
AAA's franna crane hire simplifies the process of lifting, moving, and positioning shipping containers into a streamlined and manageable procedure. This proves particularly beneficial for projects that use shipping containers as storage units, temporary workspaces, or for incorporation into modular building designs.
Need a Franna Crane for your Job Site?
AAA's franna crane hire is the optimal solution for projects that require:
Versatile Load Transportation: Our franna cranes are ideal for 'pick and carry' operations, swiftly moving loads around and across worksites, even on steep and sloping terrain
Strict Safety Measures: AAA's experienced operators have the ability to safely unload and transport loads while avoiding aerial hazards such as powerlines, AAA prioritises the safety of your site and team
Tight Access Lifting: Our franna cranes demonstrate remarkable flexibility with the ability to execute lifts in confined areas, where traditional crane trucks can't reach
Broad Range of Load Lifting: Catering to diverse project requirements, our franna cranes can manage heavy load lifting up to 22 tonnes, and also accommodate lighter loads of less than 1.5 tonnes
Streamlined Operations: The versatility and functionality of our franna cranes can lead to accelerated project completion
Expert Consultation & Support: Our team of experts provides comprehensive advice and support throughout the whole crane hire process