Franna Crane Hire in Melbourne & Regional Victoria
AAA provides a reliable and effective franna crane hire service throughout Melbourne and regional Victoria. The experienced team at AAA ensures an efficient, comprehensive crane hire service that is personalised to your on-site requirements.
Our 22-tonne franna crane (commonly referred to as a pick and carry crane) is suitable for lighter lifts on domestic job sites, heavy commercial lifts, as well as tight-access area lifts where accessibility for other cranes may be an issue.
AAA's franna crane hire is a fast and agile solution for all project conditions and specifications. Get a quote or call us on +61 3 8782 7200 for further details.
Franna Crane On-Site Lifting Capabilities:
Wall Frames, Posi Struts, Joists, Trusses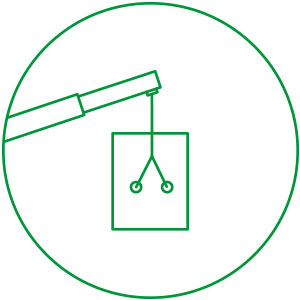 Windows to second stories
Stillages holding building products
Need a Franna Crane for your Job Site?
AAA's franna crane hire is the optimal solution for projects that require:
Load transportation (pick and carry) in and around a work site
Safe unloading and load transportation to avoid obstructions such as powerlines and other aerial hazards
Tight access lifting – lifts in limited space areas that are inaccessible to crane trucks
Heavy load lifting – up to 22 tonnes
Light load lifting – less than 1.5 tonnes
Load lifting and transportation on steep and sloping terrain